Well if everyone was as lucky as we were here today there was no need for the scraping of frost from windscreens this morning!!
There was plenty of it to be seen as we went to bed last night .. .. but this morning .. .. all gone!!! Wonderful!!
Today it was my turn to post on the
Get Funky! Challenge
blog where our lovely Lou has set the theme of
.. .. which means your creation needs to showcase the colour blue.
and to make this I used papers from one of Anice's original CD's called
The Funky One
Apart from this CD the only other things I used were:
Ribbons and Brads from the Stash Box
..... and a pen for a bit of a doodle !! LOL!!
You can win a download of your choice if you are chosen as the Get Funky! winner (so another chance to get your hands on one of the lovely downloads that Anice released at the weekend) and believe me they are both "gorgeous"!!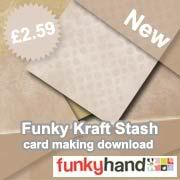 To take part in the challenge you just need to be following the theme of blue and use a Funky Hand product on your creation.
If you don't have any Funky goodies yet then Anice has provided a freebie paper which you can find

here

.
OK folks .. .. that is me for today.
I'll catch you again tomorrow. But for now favour boxes are calling me yet again .. .. .. and if you could see all the yummy chocolates and the beautifully coloured almonds I need to put inside the different ones I am making you wouldn't believe your eyes!!
How many calories?!?!?!
It's a good job sweeties are safe with me .. .. although I have had permission to pop the odd Thornton's chocolate in my mouth as there are lots of spares!! LOL!!! (but I won't).